SMASH Instructors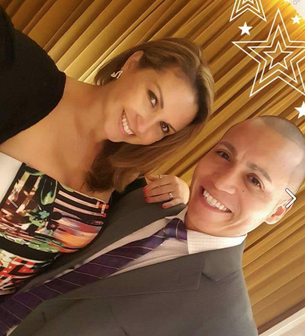 Founder Lisa Valdes Romero
Co-Founder Rob Romero
Lisa Valdes Romero, Founder of SMASH, Vegas Stiletto Fitness, and NuSMASH Project is a military wife, a mother, and a grandmother. A Las Vegas native, Lisa grew up as a competing gymnast for Fern Adair Conservatory of the Arts Las Vegas where she also trained in ballet, tap, and jazz. Later as an adult, she trained in ballroom and bellydance. Her love for performing on stage grew as she danced and choreographed for performing the show band, "Suave" , managed by her father, at the Las Vegas Tropicana Hotel. During this time, Lisa also directed the dance troupe "Latin Desert Girls" and was a salsa performer for the Sin City Salseros.

Her love for teaching dance started with the opportunity given to create a dance program at a Las Vegas recreational center for at risk youth. Having the freedom to teach what she wanted, she created dance programs for pre schoolers, salsa for kids & teens, bellydance for kids & teens, basic tumbling, and jazz/hiphop for kids. She was awarded & recognized by Clark County, NV Parks & Recreation for her dedication to dance. In 2005 she started SMASH, School of Martial Arts, Salsa, & Hiphop. SMASH was recognized by Senator Reid for conserving cultural dance classes. By 2008, SMASH was changed to School of Modern Arts, Salsa, & Hiphop to focus more on dance and fitness. In 2009, Lisa met her military husband Rob at SMASH who came to try kickboxing classes. Soon after, SMASH was moved to San Antonio, TX in 2010.

In San Antonio, Lisa & Rob teamed up to teach adult SMASH dance fitness classes and still offer fun recreational dance classes for kids. Zumba, Bollywood, Bellydance, VSF, Kickboxing, BossChick, & more was added to the adult programs while also offering Creative dance, Hiphop, & Breakdancing to kids. SMASH now has 8 instructors teaching 10 different dance & fitness programs 22 times a week at our main studio SMASH in San Antonio.

The Romeros, reside in San Antonio but travel back & forth from San Antonio to Las Vegas. In 2015, NuSMASH Project a non-profit organization was born to offer affordable low cost or no cost dance fitness classes to the communities of Las Vegas and San Antonio while helping women and children in need. Working with the communities and helping others has become an ultimate passion now for Lisa, as she now continues to grow NuSMASH Project along with SMASH & VSF.

Our mission is to help youth & adults achieve their fitness goals, teach our instructors to give back by sharing their own talents with others, and give our students the opportunity to use their energy in a positive outlet through the expression of dance & fitness. We work hard to accomplish this through SMASH.
---
SMASH Hip Hop Crew Director
Ms. Amy
Amy E. hiphop and popper: has been dancing her whole life. She started getting serious about it after winning numerous competitions including, stxym(south Texas youth ministries) kapa tau(college division), district fine arts 2011 competition (awarded merit, a highest score u can have) Nations fine arts competition kapa tau(college division) awarded merit 2011. She was the fine arts director and coordinator for 4 years and worked with Hype Sacada for over a year as assistant choreographer and dancer (may '10) *Art camp in summer of '11 as the Hip Hop choreographer & Back up dancer for Jackie Carter who opened up for Pastor and gospel singer Marvin Sapp. This young super talented instructor is loved by the SMASH students as she shares her talents with them and guides them in very creative hip hop dance moves. MS. AMY TEACHES HIPHOP 1 EVERY SATURDAY AND LEADS OUR SMASH HIPHOP CREW



SMASH Breakdancing Instructor
Mr. Kevin
My name is Kevin Brewster, my dance name is Bboy KidRaw. I am from nXg Dance Crew located in San Antonio, Tx. Our crew's message is to inspire the youth and create innovative ways to build up our community. I have whole heartedly embodied this ideology. I have traveled to different cities across Texas competing, teaching, and learning. I have collaborated with artist ranging from gospel singers to graphic designers. I have choreographed several pieces for events at Traders Village, Debuts, and dance recitals. I strive to bring out the best in every student that I teach. Overall I want to make sure that the youth understands the importance of unity, peace, and confidence that dance brings.

XB Kickboxing / Kettlebell Instructor
Ms. Rhoda
Hey everyone, my name is Rhoda! From a vey early age I've always had a love for fitness and sports. Growing up I played on pretty much every sports team my school offered. After high school I graduated from the Virginia Institute of health and healing as a massage therapist. After graduating from there my husband and I moved to Texas where I've worked in childcare for the past nine years. When I started coming to Smash, I knew I was looking for a career change but I didn't know Id find it here! I was able to merge my love of fitness and my knowledge of the body into becoming a kickboxing instructor. I enjoy every aspect of teaching my class but mostly I enjoy the people who come here and make me feel like part of the family. Everyone who comes here is ready to work out hard, so it makes being an instructor feel very easy. I hope to leave everyone I meet feeling better about their body and motivated to come back every week stronger. I'm thankful every day I can do a job I love and I'm grateful to Smash for providing not only that opportunity, but the positive changes it made for me as a person! "When in doubt, dance it out!"



Zumba Instructor
Ms. Veronica
Hello my name is Veronica I am from San Antonio Texas. Growing up I always loved to sing and dance with my cousins who used to be dancers on a tv show, so naturally I would learn the choreo and joined them.I was in choir through out my high school years I had the opportunity to perform in several plays like The Phantom of the Opera which is one of my all time favorites as well as Jesus Christ Superstar and many more.. I started doing Zumba back in 2008 and I have not stopped. I love dancing and losing myself in the music, those are the moments that I live for!
I like to see my students have fun and for one hour just let go! I have a wonderful family and friends that support me in everything I do and when I walked into Smash everyone there was ready to go, I love the people, the energy and the atmosphere here! I'am blessed to be able to do what I love and to share my passion with others. Never miss a chance to Dance